Tara Sonenshine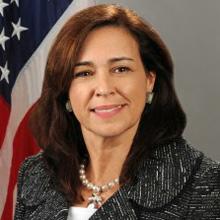 Tara D. Sonenshine is a former undersecretary of state for public diplomacy and public affairs. From 2009 to 2012 she served as Executive Vice-President at the U.S. Institute for Peace.
Ms. Sonenshine has served in various capacities in the White House including transition director of the national security council. She is a journalist by training and winner of 10 News Emmy Awards for national and international coverage during her tenure at ABC NEWS. 
She has also been a contributing editor at Newsweek and author of multiple articles about domestic and foreign policy. 
Ms. Sonenshine has advised numerous non-profit organizations on gender diversity and communications strategy and she is currently affiliated with World Learning, a global organization working on international development and education.
An avid reader and commentator, whose literary reviews have appeared in the Huffington Post and other media outlets, Ms. Sonenshine is also a Distinguished Fellow at George Washington University's School of Media and Public Affairs where she works with Planet Forward, a consortium of schools addressing sustainability.
Book Reviews by Tara Sonenshine