A. J. Kirby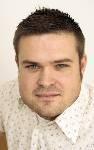 A. J. Kirby is the multi award-winning author of short fiction, two novels (Bully, and The Magpie Trap), and two novellas (The Call of the Sea, and Perfect World), as well as a volume of collected works (Mix Tape). His work has been described as "like trying to get to sleep after drinking too many vodka red bulls," his trademark strong narrative voice often "fierce and impassioned," sometimes brutal but often tempered with a consoling note of humor.
Mr. Kirby has been published in anthologies (including Legend Press's Eight Rooms, and Ten Journeys, Nemonymous 8: Cone Zero, and Nemonymous 9: Cern Zoo from Megazanthus Press, and Graveside Tales' Fried: Fast Food Slow Deaths), print journals (Sein und Werden, Jupiter 24, Skrev Press, and Champagne Shivers), and webzines (New Voices in Fiction, A Fly in Amber, Pumpkin, The Second Hand, Pages of Stories magazine, U.S. Short Story Library, and Underground).
Mr. Kirby is also a food/nightlife critic for a magazine based in his hometown of Leeds (U.K.) and a soccer correspondent for the Professional Footballer's Association.
Book Reviews by A. J. Kirby