Ron Fortier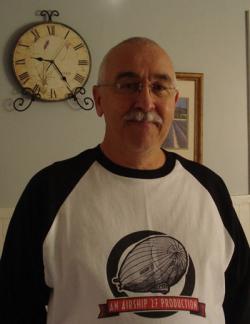 Ron Fortier has been writing professionally for 35 years. He is best known for his work on the Green Hornet comic series for Now Comics and writing Alex Ross' first comic project, Terminator: Burning Earth for the same company.
Four years ago he co-founded Airship 27 Productions with artist Rob Davis. The company produces brand new novels and anthologies featuring classic pulp heroes from the 1930s, to include Mr. Fortier's revival of Captain Hazzard. Their books are published by Cornerstone Book Publishers of New Orleans, and you can visit their online store.
Mr. Fortier also maintains a weekly blog at his website and writes a review column, Pulp Fictions Reviews.
Mr. Fortier is a frequent contributor to Moonstone Books' pulp fiction anthologies and is currently writing and self-publishing a new comic series, Mr. Jigsaw, Man of a Thousand Parts, from Rob Davis' Redbud Studios. He is also working on three new weekly webstrip comics. Redbud recently published Ron's pulp comic graphic novel, The Boston Bombers.
Book Reviews by Ron Fortier