Elissa Greenwald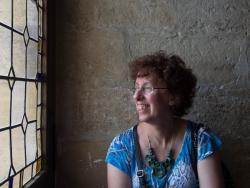 Elissa Greenwald was a member of the fourth class of women at Yale University, from which she received her B.A. in 1976 and her Ph.D. in English Literature in 1981. 
She has worked in education throughout her career, as an assistant professor of English at Rutgers University in New Jersey, curriculum developer for the College Board, director of writing assessment for the National Assessment of Educational Progress, Program Officer for teacher programs and Grants Manager for the New Jersey Council for the Humanities, and, for 15 years, as a teacher of Junior Honors and Advanced Placement English LIterature at Clifton High School in New Jersey. 
She has published a book and numerous articles of literary criticism on 19th and 20th century English and American writers, as well as a short story.