Tony Romano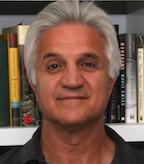 Tony Romano is the author of the novel, Where My Body Ends and the World Begins (Allium Press), When the World Was Young (HarperCollins), and the story collection, If You Eat, You Never Die (HarperCollins). He is also the coauthor of Expository Composition: Discovering Your Voice and coauthor or the text, Psychology and You.
He was recently named Illinois Author of the Year by the Illinois Association for Teachers of English (IATE) and was honored with a Norman Mailer award. One of his story collections was a finalist in AWP's annual contest. He is a two-time winner of a PEN Syndicated Fiction Project award. Both stories were produced on National Public Radio's The Sound of Writing series and syndicated to newspapers nationwide.
He lives near Chicago and writes about books, music, work, and family on his blog at tonyromanoauthor.com.
Books by Tony Romano