Donald MacCuish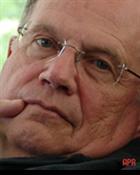 Dr. Donald Maccuish grew up in Gloucester, MA. He attended VMI earning a BA in history. His doctorate is from the University of Central Florida. He is a graduate of the Army Command and General Staff College, Air Command and Staff College, and Air War College.
Dr. MacCuish is a combat veteran of the Vietnam War serving as an Infantry platoon leader in the 173rd Airborne Brigade. Following Vietnam he served and an intelligence officer in Heidelberg and Berlin. He then transferred to the army reserves where he commanded intelligence and special forces units.
In civilian life Dr. MacCuish was the International Manager for Psychological and Educational products for Harcourt Brace. For the last 15 years he has taught strategy, leadership, air power, small wars, and military ethics at the Air Command and Staff College. He is well published in the areas of leader accountability, morality in war, Responsibility to Protect, and distance learning.
Dr. MacCuish is a frequent presenter at international conferences. His research areas of interest include: airborne operations during WWII, development of Just War Theory, leadership accountability, small wars, military operations and strategy, and air power.
Book Reviews by Donald MacCuish