Michael Pucci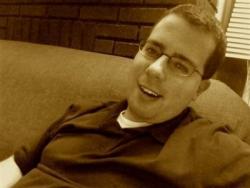 Michael Pucci is a reference librarian at a public library in New Jersey, where he now resides after living for almost 10 years in Charlotte, North Carolina. As a librarian, Mr. Pucci has assisted in the development of the adult and young adult materials, as well as collaborated with other educators in creating a summer reading list for junior high school students.
While studying journalism at UNC, Mr. Pucci wrote for and helped edit the Arts & Entertainment section of his college newspaper, The Daily Tar Heel. He has also written for the online pop culture magazine Popmatters.
He is a graduate of the University of North Carolina, and he received his Master's degree in library science at Rutgers University. When he's not spending too much money in bookstores across the Metropolitan area, he's either watching a Yankee game or trying to figure out how to fit all of his books on his shelves.
Book Reviews by Michael Pucci