James Kirby Martin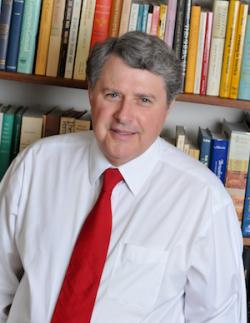 James Kirby Martin received his B.A. degree from Hiram College (summa cum laude, 1965) and M.A. and Ph.D. degrees from the University of Wisconsin (1967, 1969). Over the years he has taught at Rutgers University and the University of Houston while also holding visiting professorships at The Citadel in Charleston, SC, and the United States Military Academy, West Point, NY.
Besides his published books and articles, he has served as an advisory editor for the American Social Experience series (New York University Press); the Conversations with the Past series (Brandywine Press); and the Critical Historical Encounters series (Oxford University Press).
Among his many activities Dr. Martin has appeared as a talking head in historically related television programs and also advised on movie scripts with historical themes.
He currently serves on the Board of Trustees of the Fort Ticonderoga Association and has been an historian adviser to the Oneida Indian Nation of New York.
Dr. Martin is currently finishing two books: one on the remarkable American Revolution, and a second one on George Washington, the Newburgh Conspiracy, and success and failure in Revolutionary leadership.
Books by James Kirby Martin