Jeanne McWilliams Blasberg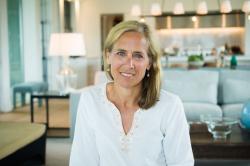 Jeanne McWilliams Blasberg is a novelist, essayist, and adventurer. Her most recent novel, The Nine (She Writes Press, 2019), has been honored with the Foreword Indies Gold Award in Thriller & Suspense, Juror's Choice in the National Indie Excellence Awards, and additional awards from Chanticleer, the International Book Awards, Reader's Favorite, and more.
Her debut novel, Eden (She Writes Press 2017), won the Benjamin Franklin Silver Award for Best New Voice in Fiction and was a finalist for the Sarton Women's Book Award for Historical Fiction.
After graduating from Smith College, Ms. Blasberg embarked on a career in finance. Even as she worked primarily with numbers, she always had an interest in writing. She made stops on Wall Street, Macy's, and wrote case studies at Harvard Business School before turning seriously to fiction.
Ms. Blasberg founded the Westerly Writer's Workshop. She sits on the boards of the Boston Book Festival and Grub Street, one of the country's preeminent creative writing centers.
She and her husband have three grown children and split time between Boston, MA, and Westerly, RI. She loves to travel, play squash, ski, and take in the glorious sunsets over Little Narragansett Bay.
Books by Jeanne McWilliams Blasberg