D.R. Ransdell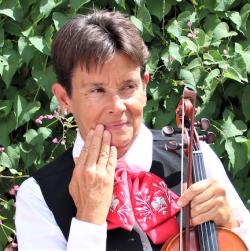 Originally from Springfield, Illinois, D.R. Ransdell now writes from the heart of the mariachi world. The protagonist for her murder mysteries is a violinist, but Andy Veracruz spends his time chasing lost musicians rather than learning new songs. His latest adventure, Substitute Soloist, won an Independent Publishers Award for Regional Fiction in 2019.
D.R. is a violinist herself. Her musical tell-all, Secrets of a Mariachi Violinist, won the 2019 New Mexico/Arizona biography award. An avid traveler, she also writes contemporary fiction about the Campanello sisters. Amirosian Nights is set in Greece; Thai Twist in Thailand.
By day she teaches composition at the University of Arizona, but she spends afternoons cooling off in the pool.