Anne Parfitt-Rogers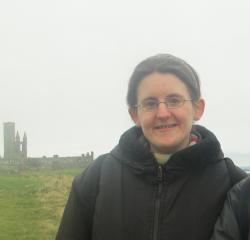 Anne Parfitt-Rogers is a freelance writer who
studied medicine at the University of Edinburgh. After successfully completing
a contract as a locum junior doctor in Scotland, and writing book reviews for
the BritishMedical Journal and Medical and Defence
Union of Scotland FYi magazine, she was inspired to delve further into the
written word and began working for a health social networking website.
She is the current editor of the Medical and
Defence Union of Scotland FYi magazine for junior doctors, a reviewer for
the Annals of Internal Medicine, and writes for a classical music
website and a food price comparison website.
Recently, Ms. Parfitt-Rogers has edited the ebook A
Framework for Health Innovation in Primary Care. She also enjoys creative writing, taking second
place in the March 2013 SoWriteUs competition and was shortlisted for her poem
"New Every Morning" on
The Poetry Hut.
She is an active social networking fan, using the
sites to keep up with friends and family as well as scientific and medical
advances. In her spare time, she is a first aider with the British Red Cross,
attends City Church Dundee, and plays guitar, oboe, and piano.