John Presta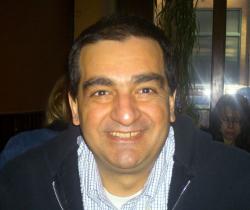 John Presta, the son of Italian-born immigrants, was born in Chicago, Illinois in 1953. Mr. Presta has a lifelong passion for the printed word that he acquired as a six-year-old newspaper boy. He is married to Michelle, and started a community bookstore that was known for books and community activism, Reading on Walden, in 1991, in Chicago's Beverly community.
In 1999, they used their community organizing skills to plan and execute a candidates' forum that was held on March 7, 2000. They volunteered in Barack Obama's 2000 Congressional campaign and so did many of the 600 people in attendance—that meeting became the root of the "grassroots" movement.
Obama lost in 2000, but Obama didn't lose John and Michelle, who worked his historic 2004 campaign for United States Senate from the beginning. The seeds planted in 2000 were taking root and spread rapidly during the 2004 United States Senate campaign. That great victory, fueled by an enormous and unprecedented grassroots movement, culminated on March 16, 2004, launching Barack Obama onto the national and international scene.
Mr. Presta is still active in many political campaigns. He writes for several publications, including The Daily Kos and the Chicago Examiner. He is a member of the Society of Midland Authors and is currently working on the next book in the Mr. & Mrs. Grassroots series. In 2010 Mr. Presta was awarded the 2010 USA National Best Book Award for African American Studies.