Maureen Stanton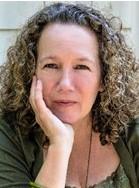 Maureen Stanton's memoir, Body Leaping Backward: Memoir of a Delinquent Girlhood (Houghton Mifflin Harcourt, 2019), won the 2020 Maine Literary Award in memoir, and was a People Magazine "Best New Books" pick. Her book, Killer Stuff and Tons of Money: An Insider's Look at the World of Flea Markets, Antiques, and Collecting (Penguin Press, 2011) won a Massachusetts Book Award, and was selected for Parade Magazine's "12 Great Summer Books."
Her essays have been widely published in literary magazines and anthologies, including Creative Nonfiction, Longreads, New England Review, Florida Review, Fourth Genre, River Teeth, and The Sun, among others, and listed seven times as "Notable" in the Best American Essays series. She's received the Iowa Review prize, the American Literary Review Prize, Pushcart Prizes, and fellowships from the Maine Arts Commission, the MacDowell Colony, and the National Endowment for the Arts.
She is an Associate Professor at the University of Massachusetts Lowell, where she teaches creative writing and literary journalism.