Kathryn Brown Ramsperger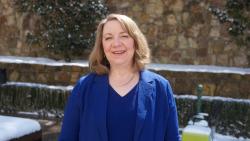 Kathryn Brown Ramsperger is the author of The Shores of Our Souls, winner of a 2017 American Book Fest Best Book Award for Best New Fiction and a 2017 Foreword Indie Book Award for Multicultural Fiction. Her novel was also a Faulkner-Wisdom 2016 fiction finalist.
Ms. Ramsperger graduated Phi Beta Kappa from Hollins University, earning a B.A. in English, and a graduate degree from George Washington University.
She worked as a journalist and publications director both nationally and internationally for such organizations as the National Geographic Society, Kiplinger, the International Red Cross and Red Crescent.
She's lived and worked in Europe and Africa, travelling throughout the Middle East. In 2000, she formed her own communications company, Ramsperger Communications, focusing on global relief and development, multicultural communication, women's and children's issues, and peace building.
In 2010, she became a certified master creativity and intuition coach. A winner of the 1980 Hollins University Fiction Award, her work focuses on peace and the connections we all share.
An animal and nature lover, mother, spouse, and mezzo soprano, she currently lives in the D.C. suburbs. 
Books by Kathryn Brown Ramsperger