Michael Nava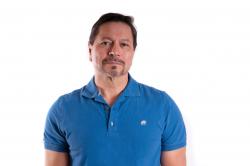 Michael Nava is the author of an acclaimed series of eight novels featuring gay, Latino criminal defense lawyer Henry Rios who Garth Greenwell, writing in The New Yorker, called "a detective unlike any previous protagonist in American noir." The New York Times Book Review has called Nava "one of our best" writers.
In addition to the Rios novels, he is the author of an historical novel, The City of Palaces, set in Mexico at the beginning of the 1910 Mexican revolution. His 2016 novel Lay Your Sleeping Head, a reimagining of the first Henry Rios novel published 30 years ago, was named by the Lambda Literary Review "one of the literary events of the year." In January 2019, he launched the Henry Rios Mysteries Podcast, which adapts Lay Your Sleeping Head into an 18-episode podcast inspired by classic radio theater. His new Rios novel, Carved in Bone, will be published in spring 2019 by Persigo Press, his fledgling publishing company.
Mr. Nava, a third-generation Californian, is also a graduate of Stanford Law School, and practiced law for 35 years before his retirement from the profession in 2016. He divides his time between San Francisco and Palm Springs.