Maceo Montoya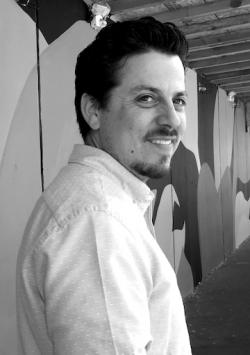 Maceo Montoya is a novelist and visual artist based in California. His paintings, drawings, and prints have been featured in exhibitions and publications throughout the country as well as internationally.
Mr. Montoya's first novel, The Scoundrel and the Optimist (Bilingual Review, 2010), was awarded the 2011 International Latino Book Award for "Best First Book" and Latino Stories named him one of its "Top Ten New Latino Writers to Watch."
In 2014, University of New Mexico Press published his second novel, The Deportation of Wopper Barraza, and Copilot Press published Letters to the Poet from His Brother, a hybrid book combining images, prose poems, and essays.
The following year, Montoya's novella and story collection, You Must Fight Them (University of New Mexico Press, 2015), was a finalist for Foreword Reviews' INDIEFAB Book of the Year Award. His latest publication, Chicano Movement for Beginners, is a work of graphic nonfiction.
An associate professor in the Chicana/o Studies Department at UC Davis, Mr. Montoya teaches the Chicana/o Mural Workshop and courses in Chicano Literature. He graduated from Yale University in 2002 and received his MFA in visual art from Columbia University in 2006.