Kate Coombs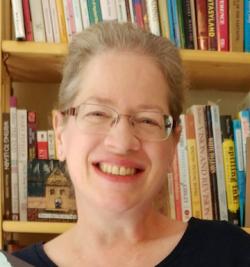 Kate Coombs writes poetry, middle grade fiction, and picture books for children. She currently teaches college English classes and is studying for a master's degree to be a Reading Specialist.
Ms. Coombs has taught every grade from kindergarten to college. She is a lifelong bookworm and wrote her first poems in grade school, along with a Nancy Drew knockoff and short plays starring herself.
Her poetry collection Water Sings Blue won the Lee Bennett Hopkins Poetry Award in 2012. She has written poetry about the ocean, mindfulness, and monster kids, as well as picture books ranging from fairy tale retellings to a kid who takes on the Tooth Fairy.
Her upcoming books are BabyLit board books about John Muir, John James Audubon, Emily Dickinson, and William Shakespeare. She is a great believer in revision, fairy tales, Christmas songs, and chocolate, not necessarily in that order. Her favorite authors are Terry Pratchett, Diana Wynne Jones, and poet Billy Collins.
Ms. Coombs plants a little garden on her balcony each summer, well out of reach of the deer. She has taken hundreds of pictures of clouds and belongs to the Cloud Appreciation Society.