Gian P. Gentile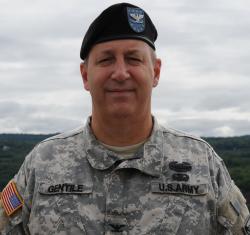 Colonel Gian P. Gentile received a BA in history from the University of California, Berkeley, in 1986 and was commissioned through ROTC as second lieutenant of Armor. He is also is a graduate of the Army's School of Advanced Military Studies (SAMS) and holds a doctorate in history from Stanford University.
Col. Gentile has served in command and staff positions in the continental United States, Germany, and Korea, as well as in Iraq in 2003 and 2006. In 2003 he was a Brigade Combat Team Executive Office in the 4th Infantry Division in Tikrit. In 2006 he commanded a Cavalry Squadron in the 4th Infantry Division in west Baghdad.
His book How Effective is Strategic Bombing? Lessons Learned from World War II to Kosovo, was published by New York University Press in 2000. He has had articles published in the Pacific Historical Review, Air Power History, Journal of Military History, Joint Forces Quarterly, Parameters, Armed Forces Journal, and The National Interest. He has also published numerous opinion articles in the Washington Post, Christian Science Monitor, Washington Times, International Herald Tribune, and Army Times. His latest book, Wrong Turn: America's Deadly Embrace of Counterinsurgency is due out in April 2013 by The New Press.
Col. Gentile has been a visiting fellow at the Council on Foreign Relations in New York City and currently directs the Military History Program at the United States Military Academy at West Point.