Lance M. Foster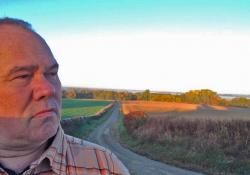 An enrolled member of the Iowa Tribe of Kansas and Nebraska, Lance M. Foster wears many hats in his tribe: historian, archaeologist, anthropologist, museum director, artist, writer, storyteller, language leader, and cultural and environmental preservationist.
Raised in Montana, he has lived in various places around the nation and spent one summer studying in Nigeria. He is an alumnus of the Institute of American Indian Arts (1980–81), obtained his B.A. in Anthropology and Native American Studies from the University of Montana (1984), and earned an M.A. in Anthropology (1994) and a Masters in Landscape Architecture (MLA, 1997) from Iowa State University.
Mr. Foster was Director of Native Rights, Land and Culture at the Office of Hawaiian Affairs (2003–2006), where he was an advocate for Hawaiian traditional rights, culture, land, and burial protection. He taught fine arts, anthropology, archaeology, and environmental ethics for seven years as adjunct faculty at the University of Montana's Helena College.
He was a consultant for two award-winning documentaries, America's Lost Landscape: The Tallgrass Prairie (2005) and Lost Nation: The Ioway (2007). He is the author and illustrator of The Indians of Iowa (2009) and has contributed to other books, including The Worlds Between Two Rivers (2000), Frontier Forts of Iowa (2009), American Indian Places: A Historical Guidebook (2008), Ancient Muses: Archaeology and the Arts (2003), Recovering The Prairie (1999), and Native America in the Twentieth Century: An Encyclopedia (1994).