Karelia Stetz-Waters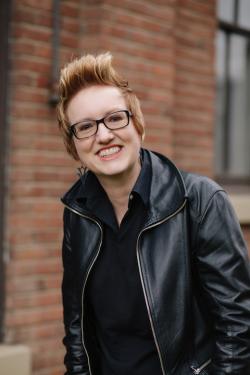 After writing across genres, Karelia Stetz-Waters has found her home in contemporary lesbian romance which she writes for the Forever Yours imprint with Hachette. Her romances include Worth the Wait, For Good, and Something True. She is passionate about providing happy endings and a vision of redemptive love for all readers. She loves romance for giving voice to female desire. Her writing is inspired by Jeanette Winterson, Anais Nin—and perhaps a little bit incongruously—Garrison Keillor.
She came of age during the violently anti-gay Ballot 9 era in Oregon in the 1990s. She has seen her state go from a powder-keg of hate and homophobia to a state that gets listed among the top ten places to live as an LBGTQ+ person. Her Out in Portland series captures the new Oregon and holds out hope that love really does win.
She and her wife live in Albany, Oregon. She teaches English at Linn-Benton Community College. In her free time, she teaches for the non-profit writing program hosted by the Gold Crown Literary Society. Her favorite lecture is on writing sex scenes. She has a BA in comparative literature from Smith College and an MA in English literature from the University of Oregon.
Books by Karelia Stetz-Waters