Jim Maraldo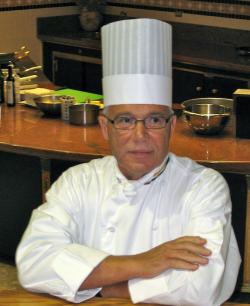 Chef Jim Maraldo has been Chef instructor, Associate Professor, at The Culinary Institute of America, Hyde Park, New York, since 1989. For over 25 years has taught numerous courses, among them cooking fundamentals, charcuterie, American regional cooking, and as Chef Instructor Caterina de Medici Italian restaurant.
For the past 15 years, he has been chef instructor of a course entitled "Cuisines of the Mediterranean," covering the Middle East, Spain, Italy, and France. He has had professional experience in New York City with Chef Larry Forgione, one of the "Godfathers" of the new American cooking at the famous River Café in Brooklyn and An American Place in NYC. He also served as Executive Sous Chef at The Ritz Carlton in NYC.
Chef Maraldo trained at New York's Technical College and The Italian Culinary Institute in Piedmont, Italy.