Youngbear Roth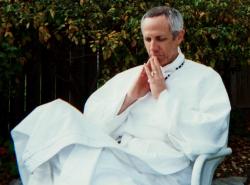 Youngbear Roth (YB) became inspired by the writings of Ram Dass, and educated within the structure of his 17-year friendship at the feet of master yogi, poet, and composer of "Nature Boy," Eden Ahbez. He credits his talent for laughing at adversity during times of crisis to his friendship with Taizan Maezumi Roshi. The foundation for Youngbear's yoga is Gautama Buddha's "Flower Sermon" and Nagarjuna's emptiness doctrine. YB's science leans toward Carl Jung's interior universe, Albert Einstein's exterior universe, and Thomas Young's particle wave of possibility.
YB is the always popular, sometimes shocking founder of the Facebook page "Yoga in Sciences and Humanities" as well as a mighty tweeter on Twitter, using both as virtual lecture halls where he is known to speak his mind to friends and followers such as Rodney Yee, Shiva Rea, Ram Dass, Bhagavan Dass, His Holiness the 14th Dalai Lama, Yoko Ono, Julian Lennon, Eckhart Tolle, Professor Huston Smith, and others. When he is not writing, Youngbear consults with and trains physicians and patients at Cedars Sinai Medical Center of Los Angeles and Reseda Hospital in the science of touch and energy therapies and contemplative and physical yoga modalities.
Youngbear Roth has lived with his wife, She Who Spreads Light, for 40 years in Los Angeles, California.