Beth Dooley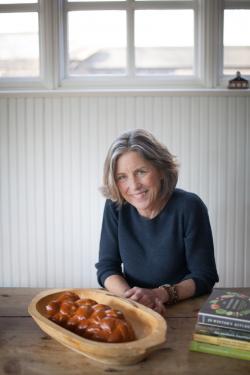 Beth Dooley  has been covering the local food scene in the Northern Heartland for over forty years. She's co-author with Sean Sherman of The Sioux Chef's Indigenous Kitchen, James Beard Award, Best American Cookbook, 2018, and author of the memoir, In Winter's Kitchen: Growing Roots and Breaking Bread in the Northern Heartland. Her titles include Savoring the Seasons of the Northern Heartland, with Lucia Watson (James Beard Nominee), Northern Heartland Kitchen, Minnesota's Bounty: The Farmers Market Cookbook, The Birchwood Café Cookbook with Tracy Singleton and Marshall Paulson, and with Mette Nielsen, Savory Sweet: Preserves from a Northern Kitchen.
A columnist for The Star Tribune, Ms. Dooley contributes to Food & Wine, and appears regularly on KARE 11 TV and Minnesota Public Radio.
She teaches at the University of Minnesota Land Scape Arboretum, The Loft Literary Center, and serves on the Minneapolis Food Policy Council. 
She and her husband Kevin live in Minneapolis and have three adult sons.