Ann Jacobus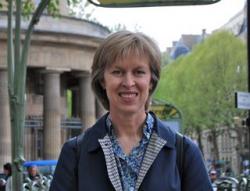 Ann Jacobus writes children's fiction, blogs about it, and teaches writing for children in San Francisco. Her work appears in varied publications including CRICKET magazine, and she reads for French and American publishers for English and French language acquisitions, respectively.
Originally from West Texas and ever in love with stories, Ann Jacobus has lived in Little Rock, Arkansas, New York City, the Kingdom of Bahrain, and Paris, France, among others. She graduated with honors from Dartmouth College and earned her MFA in Writing for Children and Young Adults from Vermont College of Fine Arts.
She is is the author of YA thriller Romancing the Dark in the City of Light (St. Martin's Press, 2015). Her short fiction and poetry have appeared in various publications including in the UK children's anthology Lines in the Sand: New Writing on War and Peace. "Surprise Me! How the Unexpected Transforms Readers and Writers in Children's Literature," was published in Great Britain's University of Winchester's Journal for the Practice and Theories of Writing for Children and Children's Literature.
She lives now in San Francisco with her husband, four kids, and a Chihuahua and teaches writing for children to people of all ages. She reads for literary magazines and contests and presents at conferences, and blogs for parents, teachers, and librarians at readerkidz.com. Represented by Hen & Ink Literary, she writes both middle-grade and young adult fiction.
Books by Ann Jacobus