Tom H. Hastings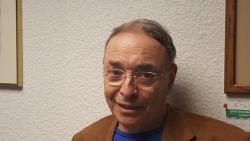 Tom H. Hastings, with his undergraduate degree in Peace and Conflict Studies, his Masters in Journalism, and his doctorate in Education, is Coordinator of the undergraduate degree programs in Conflict Resolution at Portland State University.
He is a former member of the Governing Council of the International Peace Research Association (IPRA), former co-chair of the Peace and Justice Studies Association, and is on the boards of both the IPRA Foundation and the Oregon Peace Institute, as well as the Academic Advisory Council of the International Center on Nonviolent Conflict.
He is Founding Director of PeaceVoice, a program of OPI, and has written several books and many articles about nonviolence and other peace and conflict topics.
He is a former Plowshares resister, a nonviolence trainer, a founding member of two Catholic Worker communities, and currently lives in Whitefeather Peace House. His sons are African American, which literally colored his perspective on the world since the 1960s.