Shirley Cheng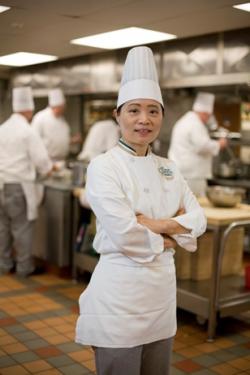 Shirley Cheng is a professor of culinary arts at The Culinary Institute of America. Chef Cheng teaches Cuisines and Cultures of Asia in the college's degree programs. Chef Cheng's students prepare, taste, serve, and evaluate traditional, regional dishes of Asia. Emphasis is placed on ingredients, flavor profiles, preparations, and techniques representative of the cuisines of China, Korea, Japan, Vietnam, Thailand, and India.
Her course also develops an expanded understanding and appreciation of why and how people from diverse world cultures with varying backgrounds approach food and beverages differently.
Chef Cheng earned an associate degree from Sichuan Culinary Institute, Sichuan, People's Republic of China; a Bachelor of Arts from Sichuan University; and a Master of Science in Hospitality Administration from Johnson & Wales, Providence, RI.
Before joining the CIA faculty in 1990, Chef Cheng was a Certified Chef-Instructor for the Sichuan Culinary Institute. She also worked as executive sous chef for Xingsheng Restaurant in Beijing, People's Republic of China.
Chef Cheng was selected as The Culinary Institute of America's Faculty Member of the Year for 1996. She was a member of the 1996 and 1997 CIA faculty teams that earned the coveted Sarrazin Cup from the Société Culinaire Philanthropique at the International Hotel, Motel, and Restaurant Show in New York City. She is a member of the American Culinary Federation.