Seth Michelson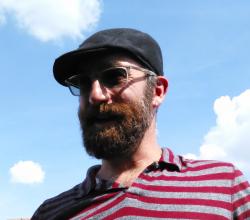 Seth Michelson is a poet, translator, and professor of poetry. He holds a BA in Latin American Studies and in Writing Seminars from Johns Hopkins University, an MFA in Poetry from Sarah Lawrence College, and an MA and PhD in Comparative Literature from the University of Southern California.
His scholarship focuses on poetry and state violence in the hemispheric Americas, and he teaches the poetry of the Americas at Washington and Lee University. He was named Professor of the Year by Adelphi University, and his awards as a writer include winning the poetry category of the International Book Awards, an NEA fellowship, an Anna Davidson Rosenberg Award, and a poetry prize from Split This Rock. He has been invited to read his poetry and to give talks on poetry across the United States, as well as in Argentina, Armenia, Germany, Kenya, Mexico, India, Slovenia, and Uruguay, among elsewhere.
He edited and translated the anthology Dreaming America: Voices of Undocumented Youth in Maximum-Security Prison, with all proceeds from its sale going to a legal defense fund for the incarcerated children, and his recent books of original poetry include Swimming Through Fire (Press 53, 2018) and Eyes Like Broken Windows (Press 53, 2012).
As a translator, he focuses on feminist poetry, and his nine books of poetry in translation include The Ghetto (Veliz Books, 2018), by the Argentine poet Tamara Kamenszain; The Red Song (Action Books, 2018), by the Uruguayan poet Melisa Machado; Scripted in the Streams, by the Indian poet Rati Saxena (Poetrywala, 2017); Poems from the Disaster (Torremozas, 2016), by the Argentina poet Zulema Moret; and roly poly (Toad Press, 2014), by the Uruguayan poet Victoria Estol.