Lynn Downey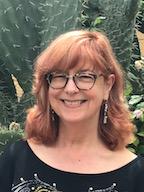 Lynn Downey is a widely-published historian of the West, with degrees in history and library science from San Francisco State University and the University of California, Berkeley. She has published books and articles on the history of jeans, the treatment of tuberculosis in California, American art pottery, and the history of Arizona. 
She was the Historian for Levi Strauss & Co. in San Francisco for 25 years. Her biography of the company's founder, Levi Strauss: The Man Who Gave Blue Jeans to the World, was published by the University of Massachusetts Press in 2016, and won the 2017 Foreword Reviews silver INDIE award for Biography.
Her next book, Life in a Lung Resort, is the history of an early 20th century women's tuberculosis sanatorium in California. In 2012 she received a Charles Donald O'Malley Short-Term Research Fellowship from the Special Collections Division of the David Geffen School of Medicine at the University of California, Los Angeles, where she studied the history of tuberculosis treatment.
Ms. Downey now works as a historical/archival consultant and exhibition writer, and is also a board member of the Frank Lloyd Wright Marin County Civic Center Conservancy. She lives in Sonoma County, California.