Jaimee Wriston Colbert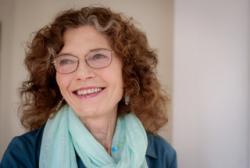 Jaimee Wriston Colbert is the author of six books of fiction: Vanishing Acts, Wild Things, Shark Girls, Dream Lives of Butterflies, Climbing the God Tree, and Sex, Salvation, and the Automobile. A new novel, How Not to Drown, is forthcoming May 11, 2021.
Her books have won the 2018 International Book Award, CNY 2017 Fiction Award, Willa Cather Fiction Prize, Zephyr Prize, IPPY Gold Medal, Ian MacMillan Fiction Award and more. Her stories have appeared in The Gettysburg Review, Prairie Schooner, New Letters, and many other venues.
Originally from Hawaii, she lives in upstate New York where she is Professor of English and Creative Writing at SUNY, Binghamton University.
Books by Jaimee Wriston Colbert