Chef Barrie Boulds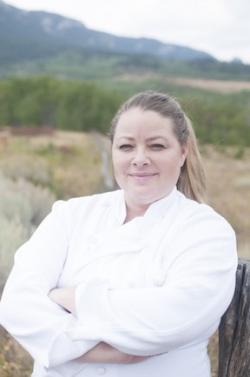 Chef Barrie is a third generation Montanan who was born and raised  in Eastern Montana on the Ft. Peck Assiniboine and Sioux Reservation, where her interests, talents, and passions developed for the culinary arts. She is a self-taught chef and is widely known for using Montana regional products and Montana only cuisine in her catering.
She continues her private chef and catering business in Montana and beyond, bringing her passion of  locally sourced and foraged, yet rustically refined foods, to her clients. In her 27 years as a professional chef, she has served clientele from celebrities to former presidents and their staff.
She has recently added "author" to her repertoire of skills and her award-winning cookbook, The Big Sky Bounty Cookbook: Local Ingredients and Rustic Recipes is a compilation of Montana history and personal stories with Chef Barrie's favorite childhood recipes, recipes from friends and family, and recipes created throughout her career.
Chef Barrie also has an all-natural salad dressing company, Sydney's Bistro Dressings, packaged and produced locally in Montana and a local, weekly premade food delivery service servicing central Montana.
She splits her time between Red Lodge and Missoula, MT.
Books by Chef Barrie Boulds