Brandt Dodson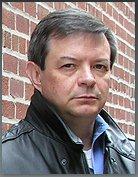 Brandt Dodson is the creator of the Colton Parker mystery series and is the author of several standalone novels and short stories. He comes from a long line of police officers spanning several decades and was employed by the Indianapolis office of the FBI. It was this background that led Mr. Dodson to write stories that feature police officers and detectives, struggling to right the wrongs of a fallen world.
"Crime novels are an excellent platform for drama. You have bad guys and good guys, of course, but real life is seldom so black and white. I don't believe in moral relativism, but the fact is, there are few people who live on one side of the line or the other. It's the shades of gray that makes crime fiction compelling."
Mr. Dodson attributes his desire to write to a succession of teachers.
"Writing came naturally to me while in grade school, and I had the good fortune of being encouraged by several teachers and professors. Their encouragement directed me toward a path that offers a voice for expression."
Mr. Dodson lives in southern Indiana with his wife and sons and is at work on his next novel.