Aphrodite Jones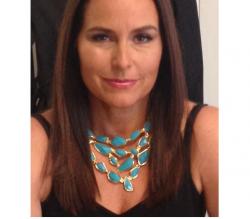 Following in the footsteps of greats who came before her, such as Truman Capote and Dominick Dunne, Aphrodite Jones has spent years attending high profile crime trials and writing riveting accounts of twisted murders across the USA. As a unique investigative journalist, Ms. Jones specializes in getting to the nitty gritty. She not only spends time behind bars with criminals, she also visits gravesites with their victims—and always gets to the heart of the story.
A New York Times best selling author who gets personal with all of the people in her books, Ms. Jones has developed mutual respect and cooperation from all branches of law enforcement, both on the state and federal levels. And as a reporter who has covered high profile crimes for FOX , MSNBC, A&E, TLC, BRAVO, COURT TV, DISCOVERY, EXTRA, and E!, Ms. Jones is a veteran; digging deep into bizarre murder cases has been her strong suit.
Throughout her years on camera as a crime expert, Ms. Jones has commented on cases ranging from O. J. Simpson to Robert Blake, from Kobe Bryant to the BTK Killer, from Jon Benet Ramsey to Charles Manson, from the Menendez Brothers to Phil Spector. She is considered an authority on cases involving Scott Peterson and Michael Jackson and has written extensively about both subjects. Ms. Jones has also become an expert on teen violence.
As a nationally recognized figure in the field of crime, Ms. Jones created and hosted a reality TV show for USA Network called The Justice Hunters. The TV special aired just days before the 9/11 attack on the U.S., and afterward she hosted an investigative piece for Extra! in which she unmasked the secret life of Ziad Jarrah, the suicide pilot who took control of Flight 93.
Aside from her 20-year career as a crime analyst on TV, Aphrodite Jones has written eight bestselling true crime books, the details of which can be found on her website. To date, three of her books have been transformed into movies, the most famous, All She Wanted, became the Academy Award wining film Boys Don't Cry.