Bill Gallaher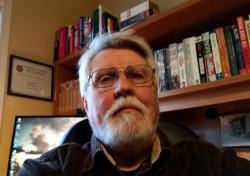 Bill Gallaher calls Victoria, British Columbia, home but the road there was long and eventful. Born in Vancouver, he left home at an early age and motorcycled to Manitoba where he befriended and wrestled a black bear named Bruno. He once hitch-hiked from Los Angeles to New Orleans, then joined the RCAF and spent several years as an air traffic controller. A stint with Air/Sea Rescue saw him instrumental in the rescue of downed pilots in the frozen arctic.
He graduated from Simon Fraser University, traveled extensively through Europe, and later taught high school anthropology and social studies until his restlessness took him to Ireland where he turned his hobby of guitar playing and songwriting into a career.
He has performed across Canada and as far south as California, on radio and on television. His passion for researching and writing historical ballads morphed naturally into writing historical novels of which he has penned eight. He has also written newspaper articles and music reviews.