Mark de Castrique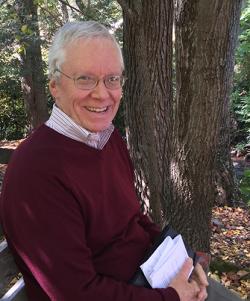 Mark de Castrique was born in Hendersonville, NC, near Asheville. He went straight from the hospital to the funeral home where his father was the funeral director and the family lived upstairs. The unusual setting sparked his popular Barry Clayton series and launched his mystery-writing career.
Mr. de Castrique is the author of 17 novels: six set in the fictional NC mountain town of Gainesboro, six set in Asheville, two in Washington D.C., one science thriller in the year 2030, and two mysteries written for middle graders.
His novels have received starred reviews from Publishers Weekly, Library Journal, and Booklist. The Chicago Tribune wrote, "As important and as impressive as the author's narrative skills are the subtle ways he captures the geography—both physical and human—of a unique part of the American South." 
He is a veteran of the broadcast and film production business. In Washington, D.C., he directed numerous news and public affairs programs and received an Emmy Award for his documentary film work.
 
Mr. de Castrique lives in Charlotte, but he and his wife Linda can be often found in the NC mountains or the nation's capital.
Books by Mark de Castrique