Susan Middleton Elya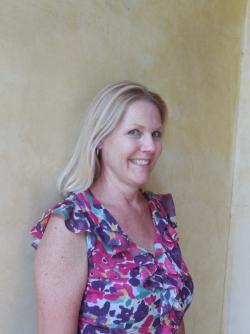 Susan Middleton Elya grew up in Iowa, started writing stories at age seven, traveled to Mexico City in high school, earned a dual degree in Spanish and elementary education at Iowa State University, student-taught in Venezuela, saw Machu Picchu when she was twenty-one years old, studied in Spain, taught ten years of public school, started the Spanish program and wrote the curriculum at Lewis Central Middle School in Council Bluffs, Iowa, earned a master's degree in Linguistics from the University at Nebraska at Omaha, got married, and moved to California. 
When Ms. Elya's oldest child said, "Teach me Spanish, Mom," that request sparked a book called Say Hola to Spanish. Twenty-four years later, Susan is still writing rhyming picture books in Spanish and English.
Some of Susan's best known titles are Home at Last; Oh No, Gotta Go; Bebé Goes Shopping; Fire, Fuego, Brave Bomberos; Rubia and the Three Osos, Little Roja Riding Hood; La Madre Goose; and La Princesa and the Pea.
The mother of three grown children, Ms. Elya lives in Northern California with her dog, Pepper, and other family members.
Books by Susan Middleton Elya
Book Reviews by Susan Middleton Elya