Sean Prentiss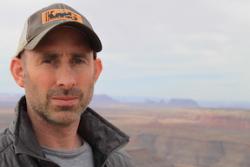 Sean Prentiss is the award-winning author of Finding Abbey: A Search for Edward Abbey and His Hidden Desert Grave, a memoir about Edward Abbey and the search for home. Finding Abbey won the 2015 National Outdoor Book Award for History/Biography, the Utah Book Award for Nonfiction, and the New Mexico-Arizona Book Award for Biography. It was also a Vermont Book Award and Colorado Book Award finalist. 
He is also the author of Crosscut: Poems, which is poetic memoir about his time spent working as a trail builder in the Pacific Northwest. Mr. Prentiss is also co-editor of The Far Edges of the Fourth Genre: Explorations in Creative Nonfiction, a creative nonfiction craft anthology, and co-editor of The Science of Story: The Brain Behind Creative Nonfiction.
Mr. Prentiss is also a creative writing textbook writer, including Environmental and Nature Writing: A Craft Guide and Anthology and Advanced Creative Nonfiction: A Writer's Guide and Anthology, and the series editor for the Bloomsbury Writers Guide and Anthology Series. This textbook line focuses on creative writing. 
He and his family live on a small lake in northern Vermont, and he serves as an associate professor at Norwich University.