Robert S. Davis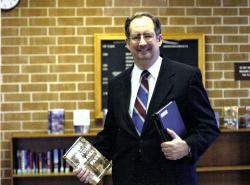 Robert Scott "Bob" Davis is director of the Family and Regional History Program, Wallace State Community College, Hanceville, Alabama. His program pioneers local and family history research in a college environment. He holds a Master of Education degree in history from the University of North Georgia and a Master of Arts degree from the University of Alabama at Birmingham. Mr. Davis is also a graduate of the Institute of Documentary Editing of the National Historical Records Publications Commission.
His more than 1,000 publications on records and research include a number of books and more than 100 articles and reviews in professional historical, library, education, and archival journals, including Prologue: The Quarterly of the National Archives, Gulf States Historical Review, Journal of African-American History, Agricultural History, The Journal of Military History, Documentary Editing, The Journal of Southern Legal History, The Alabama Review, Georgia Historical Quarterly, and The South Carolina Historical Magazine. Robert S. Davis has been quoted in Time, Smithsonian, CNN, NPR, NBC, the Washington Post, and the Wall Street Journal. He has personally researched in all of the major libraries and archives of the United States and Great Britain.
In Alabama and Georgia, Mr. Davis has worked to raise public awareness on saving local government records and has been a member of the Alabama governor's historical records commission. He has been the guest speaker at hundreds of meetings of civic, genealogical, and historical organizations. In 2006, the American Association for State and Local History awarded the program that he has built up with its Outstanding Leadership in History Award of Merit. He received the same award in 2007 for his book Ghosts and Shadows of Andersonville.
Book Reviews by Robert S. Davis