Richard Crepeau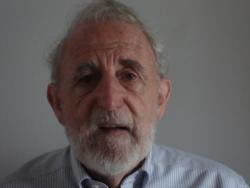 Richard Crepeau is Professor Emeritus of History at the University of Central Florida where he taught courses in Sport History and 20th Century American History. He has written extensively in Sport History including books on Major League Baseball and the National Football League. He has written articles in academic publications and newspapers, and has been writing a column for the Sport Literature Association for 25 years which now also appears in the Huffington Post.
He was a Peace Corps Volunteer in Ethiopia in the 1960s and maintained an interest in African history and culture. He is a past president of the North American Society for Sport History, has served on the editorial board, and has been a book reviewer for Arete: The Journal of Sport Literature and The Journal of Sport History. He has been submissions reviewer for The Journal of Sport History and Nine: The Journal of Baseball History and Culture. He also served as a reviewer of both fiction and nonfiction for The Orlando Sentinel. His most recent book is NFL Football: A History of America's New National Pastime.
His university teaching career beyond the University of Central Florida include assignments in Russia and England, and as a Fulbright Senior Specialist in several Russian universities.  
Book Reviews by Richard Crepeau