Debbra Palmer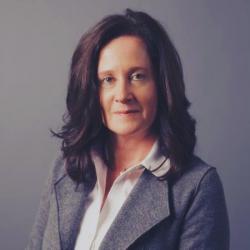 Debbra Palmer's poetry has appeared in Calyx Journal, Portland Review, and other journals, as well as several literary anthologies, including His Hands, His Tools, His Sex, His Dress: Lesbian Writers on their Fathers (Alice Street Editions) and Present Tense and A Fierce Brightness, 25 Years of Women's Poetry (Calyx Press).
Her poetry reviews have appeared in Prairie Schooner, and she was a reader and researcher for a book review program on Boise public radio.
Her graphic memoir in comics, Holy Frigidaire, was published through a grant from the Alexa Rose Foundation in 2021.
She earned a BS in Arts and Letters from Portland State University with a minor in writing and an MFA in poetry from Pacific University.
Currently, she is a writing instructor at the College of Western Idaho. She has also worked in communications and marketing with companies and organizations including Nike, Intel, Comcast, and Boise State University. 
She lives in Idaho's Treasure Valley with her wife.