Cindy Helms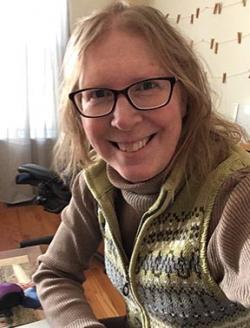 Cindy Helms is a visual artist, author, and illustrator known for designing unusual projects. For Ms. Helms, art is created from curious and whimsical combinations of mediums, shapes, textures and colors. Her artwork includes acrylic paintings, paper machè, mosaics, graphic design, and colored pencil illustrations. In her unique and simple children's books, Ms. Helms' artwork comes to life in characters that enchant children and adults alike.
After many years as an IT manager, another many years as a stay-at-home mom, and yet another many years designing and building sets for musical theater productions, Ms. Helms has set her artistic self free launching her artwork into the professional arena with the publication of children's books: Who's New, and Outside, Inside (also in Spanish as Afuera, Adentro), Polygonsters and Thorn Weeds, Fang Bugs and Prickle Sticks.
Ms. Helms holds degrees from Depauw University and the University of Denver and continues to study, exploring artwork for children in particular on a daily basis.
Book Reviews by Cindy Helms