Charles Holdefer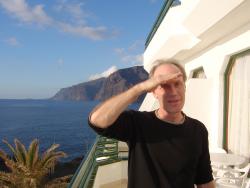 Author of four novels, most recently Back in the Game (2012), Charles Holdefer is a graduate of the Iowa Writers' Workshop and the Sorbonne. He grew up in the Midwest and has spent much of the last two decades in Europe. Hisnovel, The Contractor (2007) about an American black site and the use of torture in the "War on Terror," was an American Bookseller's Association "Book Sense Pick."
His short fiction has appeared or is forthcoming in many magazines, including the New England Review, North American Review, Chicago Quarterly Review, Los Angeles Review, Southern Humanities Review, Slice, and elsewhere.
He also writes essays and reviews which have appeared in The Antioch Review, World Literature Today, New England Review, The Dactyl Review, The Collagist, l'Oeil du Spectateur, and Journal of the Short Story in English.
Charles currently resides in Brussels, Belgium, and he teaches at the University of Poitiers, France. He is an avid runner and spends much of his time reading and writing on trains.
Find more information and links to interviews and recent work on his website.
Books by Charles Holdefer