Anjanette Delgado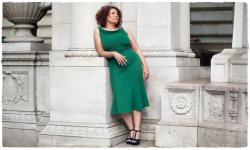 Anjanette Delgado is a Puerto Rican novelist and journalist writing about heartbreak, displacement, and social justice. She is the author of The Heartbreak Pill (Simon & Schuster, 2008); which won the Latino International Book Award in 2009 and was a Triple Crown Winner in 2010; and of The Clairvoyant of Calle Ocho (Kensington Publishing & Penguin Random House, 2014).
She is also the editor of Home in Florida: Latinx Writers and the Literature of Uprootedness, an anthology just released by the University of Florida Press. 
Her work has appeared in numerous anthologies, as well as in The Kenyon Review, Pleiades, Vogue, The New York Times, The Hong Kong Review, NPR, and HBO, among others. 
She is a Bread Loaf Conference alumni, the recipient of an Emmy Award for her feature writing, and served as a judge for the Flannery O'Connor Short Fiction Award in 2015. The following year, she was a Peter Taylor Fellow in Fiction, and in 2020, she was nominated for a Pushcart Prize.
Ms. Delgado has taught writing for the Center for Literature and the Miami Book Fair at Miami Dade College, for Florida International University, and for writer's conferences from New Jersey to Mexico City and Puerto Rico. She holds an MFA in Creative Writing from Florida International University. She lives in Miami.
Books by Anjanette Delgado
This item is no longer valid on Amazon.
Book Reviews by Anjanette Delgado