Nancy Carty Lepri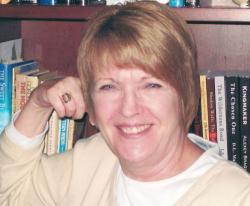 Nancy Carty Lepri was born and raised in Massachusetts. Working as an editorial assistant for a food-industry newsletter publisher, she earned an AA degree in Visual Art from Cape Cod Community College and a BA in Liberal Studies with a concentration in writing from Western New England College. In addition, she was a freelance reporter for several local newspapers.
Ms. Lepri and her husband Art moved to Wilmington, NC, in 1995. Her publishing credits include the Wilmington magazine as well as two national and international food-industry trade magazines.
Receiving Editor Certification through Cape Fear Community College in 2006, Ms.Lepri has taught online writing and drawing courses, illustrated children's books, started four mainstream novels, and had her children's chapter book, Tiny Angel, published through Guardian Angel Publishing in November 2009.
Relocating to the Raleigh area in 2007, Ms. Lepri freelanced as senior editor for a national publisher, wrote press releases for more than twenty novels, and was copy editor and reviewer for Affaire de Coeur magazine. She currently edits and critiques manuscripts, reviews for ReaderToReader.com and NY Journal of Books, and is completing her sequel to Tiny Angel.
Books by Nancy Carty Lepri
Book Reviews by Nancy Carty Lepri